In a lot of the ads we see today, women are the central focus. They are often scantily clad and overly sexualized. Kemmerer quotes Carol Adams saying "viewing other beings as consumable is a central aspect to our culture…viewing some individuals as consumable is so central to Western culture that most of us fail to notice it" (Kemmerer). The consumed are women and the consumers are the people who sexualize them. In most advertisements, women are often compared to animals. This is a objectification and sexualization of both women and animals.
I selected three images from The Sexual Politics of Meat by Carol J. Adams that supports my point. The first image is presumably a card with a man sitting next to a cow either pretending or genuinely milking the cow. On top of the image, it say "Carl could finally claim he'd gotten to second base". This again compares women to animals. The writing at the top is implying something sexual, that women are prudes. It implies that Carl had to milk a cow to get to second base rather than actually get to second base with a woman.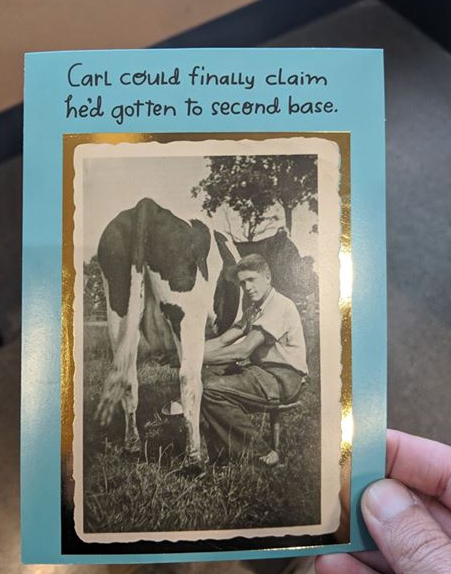 The next image I chose is of a pig dressed as Marilyn Monroe. It is of her iconically standing in a white dress on top of a taxi grate from her movie, The Seven Year Itch. This is another interpretation of women as animals, this time comparing us to a pig. The words above say "Aixo son pernils" which roughly translates to second grade pork. In Latin, there is no significant difference between first and second grade. The purpose of that poster, presumably in front of the restaurant is marketing their pork, so what was the point of this particular poster. The promotion of meat is not even obvious. The saying is in Latin and the human sized pig does not make it any easier. People would recognize Marilyn Monroe in her white dress more than that Latin phrase. This poster is essentially saying we have the best pork, come and get it. The problem with this is that they chose to compare women to pigs.
The last photo are button pins of Hillary Clinton. This was obviously made by her opposition. The button says "KFC Hillary Special 2 fat thighs 2 small breasts … left wing". This again compares women to animals. This time demeaning a specific woman in the process. There is another pin on the bottom, I can't read the whole thing but a simple google search solved that. It says, "Life's a bitch, don't vote for one". This button also compares Hillary Clinton to a dog, as if calling someone a bitch incentives people enough not to vote for her.
Another photo I chose to analyze is of a naked woman strategically posed to hide her naked body. Next to her is of a bunny and to her side it says, "who needs fur to feel beautiful? I'd rather go naked than wear fur". This again compares women to animals (you may have noticed a theme here). This ad was posed by Olivia Munn for Peta to expose fur farms. This ad is claiming that fur only looks good on its original owner, the animal. As powerful as this message is, the advertising could have gone differently. This was most likely unintentional, but patriarchy is so deeply rooted in our society that we didn't even notice. The woman, Olivia Munn is stripped naked like an animal. Although it was Munn's choice to be naked, she did not have to go that route to get her message across. A naked woman seems like a cheap attempt to get attention for the ad. I am positive that the majority of the people who have seen the ad were more focused on the naked woman than the message of the ad itself.